Researchers from the University of Florida have found a way to make minuscule test tubes from carbon and silica nanotubes. Nanotubes are rolled-up sheets of atoms that can measure less than 1 nanometer in diameter, and carbon nanotubes occur naturally in soot. A nanometer is the span of 10 hydrogen atoms.

The nano test tubes could eventually be used -- along with tiny caps -- to bottle small numbers of molecules such as drugs, DNA, or proteins and release them in specific places in the human body.

The researchers made the nano test tubes by modifying their template method of making open-ended nanotubes.

The researchers grow nanotubes in a membrane-like alumina template. The diameter of the test tubes depends on the diameter of pores in the template and the length of the test tubes is determined by the thickness of the template. They were able to make nano tubes that were closed on only one end by adjusting the template so that the pores were closed on one end.

The method can be used to make nanotubes from many different materials, according to the researchers. This opens the possibility of creating tubes with different biochemical properties. The researchers are also able to modify the outer surfaces of the test tubes to, for example, encourage their uptake by particular types of cells.

Nano test tubes could be used practically in 10 to 20 years, according to the researchers. The work appeared in the March 10, 2004 issue of Nano Letters.



Page One

DNA bot targets cancer

Memory stores three bits in one

Chaos seems to aid learning

Y switches set up low-power logic

Briefs:
Color display blocks prying eyes
Net lets hand-helds view 3D data
Speed limits could slow viruses
Nano test tubes fabricated
Nanowires make tiny compasses
Upbeat computers boost users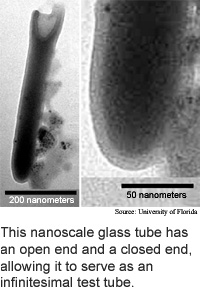 Research Watch blog

View from the High Ground Q&A
How It Works

RSS Feeds:
News

| Blog



Ad links:
Buy an ad link