Humans are constantly accommodating computers. Data taken from one program must often be altered before another program will accept it properly, for instance.

Researchers from Carnegie Mellon University have built a tool that uses natural language parsing techniques to reduce the formatting that must be done when text is copied from one application, like email, and pasted into another, like an address book.

The tool, dubbed Citrine, automatically adds inferred structure to data as it is copied to the clipboard. The method simplifies situations like copying a street address from an email and pasting it into MapQuest to one copy action and one paste action.

Citrine parses the information into multiple formats from multiple vendors. When it senses that the user is copying an address, for instance, it parses the data into the Windows Outlook Contact, vCard, and Palm Desktop address book formats. This allows the user to paste any copied data into multiple fields of any of these types of forms rather than having to do the conversion by hand field by field, according to the researchers.

The researchers have integrated their prototype into Internet Explorer, Outlook, and Excel, and use it for real tasks tasks like mapping addresses, making calendar entries, and adding bibliographic references. The unsupported prototype is available for public download at www.cs.cmu.edu/~citrine.

The tool could be ready for use in practical applications within six months, according to the researchers. They presented the work at the User Interface Software and Technology 2004 (UIST '04) conference held October 24 to 27 in Santa Fe, New Mexico.



Page One

Video organizes paper

Conversations control computers

DNA scheme builds computers

The History Files:
A Short History of the Computer

Letter to readers

Briefs:
Copy-and-paste goes natural
RNA tiles form nanopatterns
Input device tracks muscle tremors
Nano gas turbine designed
Ultrasound makes blood stand out
Silicon surfaces speed circuits
Branchy molecules make precise pores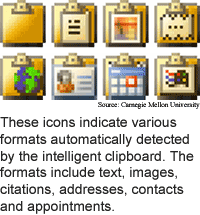 Research Watch blog

View from the High Ground Q&A
How It Works

RSS Feeds:
News

| Blog



Ad links:
Buy an ad link