University of California at Berkeley researchers have found a way to grow silicon nanowires and carbon nanotubes directly on delicate microelectronic components.

The simple method promises to enable vanishingly small, relatively inexpensive gas detectors, pressure sensors, biosensors and strain gauges that monitor structures like airplane wings, according to the researchers.

The method could also eventually foster components for nanoelectronics and for quantum computers, which are theoretically many orders of magnitude faster than today's computers.

The researchers used a vacuum and resistive heating -- the warming technology ordinary toasters employ -- to provide the 700 to 1,100 degrees Celsius temperatures needed to form nanowires and nanotubes from a metal catalyst and chemical vapor. The heating was restricted to a bridge structure, keeping nearby electronic components a safe 25 degrees. Nanowires or nanotubes formed depending on the temperature, catalyst and vapor used.

The researchers made nanowires 30 to 80 nanometers in diameter and up to 10,000 nanometers long, and nanotubes 10 to 15 nanometers in diameter and up to 5,000 nanometers long. A nanometer is one millionth of a millimeter, or the span of 10 hydrogen atoms.

Simple sensors could be built within a year, and the method could be used commercially within ten years, according to the researchers. The work appeared in the June 30, 2003 issue of Applied Physics Letters.



Page One

DNA makes nano barcode

Study reveals Net's parts

Recommenders can skew results

Light pipes track motion

News briefs:
Material helps bits beat heat
Process puts nanotubes in place
Printing method makes biochips
Tiny T splits light
Tiny walls sprout nanowires
Big sites hoard links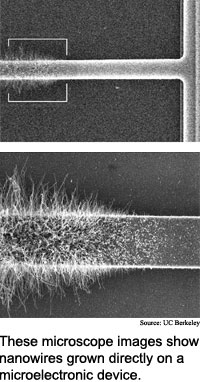 Research Watch blog

View from the High Ground Q&A
How It Works

RSS Feeds:
News

| Blog



Ad links:
Buy an ad link