Researchers from the Spanish Superior Counsel of Scientific Research and the Polytechnic University of Valencia in Spain have built a chip that senses interactions among molecules via lightwave interference.

The device is twice as sensitive as existing molecular sensors, and could eventually be used for medical diagnostics and medical research, and to quickly detect water pollutants and chemical and biological warfare agents in the field, according to the researchers.

The researchers' device is a type of interferometer, which splits a light beam in two, then joins them again. If a split beam interacts with a substance, it will be out of phase when joined with its other half, making the beams interfere with each other to some degree when they combine.

The device also contains molecules that bind to certain target molecules, and when a receptor molecule binds to a target molecule it changes the degree of light interference. These changes can be sensed within seconds or minutes to confirm the presence of a target molecule.

The researchers made the device using standard silicon manufacturing techniques; it could eventually be integrated along with other electronics into a single computer chip.

The sensor could be used practically in five to ten years, according to the researchers. The work appeared in the July 2, 2003 issue of Nanotechnology.



Page One

Skulls gain virtual faces

Viewer explodes virtual buildings

Tool blazes virtual trails

Quantum computer keeps it simple

News briefs:
Video keys off human heat
Interference boosts biochip
Device simulates food
Motion sensor nears quantum limit
Molecule makes ring rotor
Carbon wires expand nano toolkit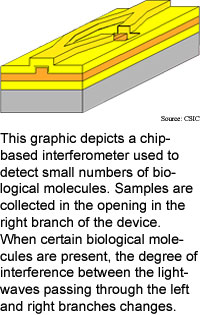 Research Watch blog

View from the High Ground Q&A
How It Works

RSS Feeds:
News

| Blog



Ad links:
Buy an ad link