For many years television has used chroma-keying to set people's images against different backgrounds. But filtering out the original background requires that the people be taped in front of a monochrome screen -- usually blue.

Researchers from the University of Tokyo have developed a method for segmenting out the human parts of a video stream that does not require a particular background.

The researchers' prototype uses a thermal vision camera to measure the temperature distribution of the region being shot. The method uses heat coming from the human body to identify and isolate in real-time those parts of the picture that depict a person.

In addition to placing people in front of different backgrounds, the method can be used to depict human figures as translucent shadows. The researchers are currently working on a simpler, hybrid system that combines the temperature method with color data.

The method could be used practically in two to three years, according to the researchers. It is currently a fairly expensive proposition due to the high cost of thermal cameras, but this cost is likely to come down over time, according to the researchers. They presented the work at the Association of Computing Machinery (ACM) Special Interest Group Graphics (Siggraph) 2003 conference in San Diego, July 27 to 31.



Page One

Skulls gain virtual faces

Viewer explodes virtual buildings

Tool blazes virtual trails

Quantum computer keeps it simple

News briefs:
Video keys off human heat
Interference boosts biochip
Device simulates food
Motion sensor nears quantum limit
Molecule makes ring rotor
Carbon wires expand nano toolkit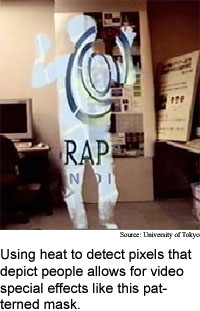 Research Watch blog

View from the High Ground Q&A
How It Works

RSS Feeds:
News

| Blog



Ad links:
Buy an ad link