Many research groups are working to produce flexible electronics. Most of those groups are working to improve the electrical capabilities of organic, or plastic, materials.

Researchers from the University of Illinois at Urbana-Champaign are taking a different tack. They are finding ways to produce extremely small electrical components from crystalline silicon that can be attached to a plastic backing.

Traditional silicon components have much better electrical properties than organic ones. The components could be used in flexible large-area displays, radiofrequency ID tags, sensors, and flexible, high-performance applications like reconfigurable antennas, according to the researchers.

The researchers formed microscale or nanoscale components, including ribbons, wires, platelets and disks from silicon wafers, then removed the silicon from the insulating substrate, or base. They have developed two methods to transfer the tiny, single-crystal components to a plastic surface.

One method involves using rubber stamps to transfer the silicon structures to a plastic substrate. The second calls for suspending the structures in a liquid solvent, then depositing the liquid on a plastic substrate.

Once the silicon is on plastic, the researchers form contacts between components to make transistors. The transistors are much more powerful than today's organic electronics, producing 180 square centimeter per volt second rather than around 1.

The method could be used to produce commercial products within two to three years, according to the researchers. The work appeared in the June 28, 2004 issue of Applied Physics Letters.



Page One

Photonic chips go 3D

Online popularity tracked

Summarizer gets the idea

Electric fields assemble devices

Briefs:
Process prints silicon on plastic
Tool automates photomontage edits
Device promises microwave surgery
Hologram makes fast laser tweezer
Chemistry yields DNA fossils
Particle chains make quantum wires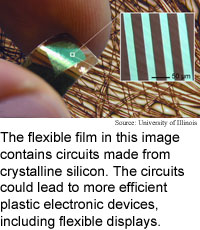 Research Watch blog

View from the High Ground Q&A
How It Works

RSS Feeds:
News

| Blog



Ad links:
Buy an ad link